Risk Management
BAAC adopted various standards and principles to promote risk management mechanism to ensure that the risk level is acceptable and risk management system is adequate to identify, measure, monitor, and control risks. For instance, the COSO-ERM standard: 2004 ISO 31000: 2009, the Framework for the Specialized Financial Institutions of the Bank of Thailand and the Audit Commission Act. In line with the Internal Control Standard 2001 and other related international standards as guidelines for risk management and internal control to support the BAAC's operations to achieve its objectives and goals. This to ensure that stakeholders will be satisfy and confident in the risks that occur throughout the organization will be managed to an acceptable level.

BAAC regularly assesses the changing context of the organization and its internal and external environment that would affect the operations. The BAAC's strategic plan has been annually reviewed to determine risk management and internal control policies, risk management and internal control strategies, corporate risk factors and risk ceiling. The BAAC's risk management and risk response measures are used as a framework and a guideline for all operations throughout organization.
Risk Management Policy

1. Risk Management is the responsibility of the board of directors, executives and all employees to enhance risk awareness from organization's operations and manage risk arising to acceptable level.

2. Apply international standard of risk management approach, framework and guidelines to accomplish BAAC's mission which is accordant to the domestic banking supervision.

3. Emphasize in creation of sustainability by managing balance between risk and return to develop high-performance organization, good corporate governance, as well as maximize risk valuation from creating business opportunities.

4. Utilize innovation and technology to increase risk management efficiency by mitigation of operational burden and promote risk management as part of corporate culture.

5. Set standards and operational procedures to cope with unexpected events.
Internal Control Policy

1. Set up and evaluate an internal control system in accordance with the COSO-ERM guidelines, regulations of the State Audit Commission, the guidelines for the internal control system and internal control evaluation of the Office of the Auditor General of Thailand, Office of the National Policy Commission, Ministry of Finance and the Bank of Thailand.

2. Set up internal control as parts of operations, which is a normal activity in all functions and levels of operation to maintain the property and use resources economically, efficiently and effectively to reduce opportunities of fraud existence.
3. All units must comply with the BAAC's internal control system. In case of weaknesses of the internal control system, the supervisor shall be reported in order to consider and adjust the internal control system accordingly.

4. The Board of Directors, the Management, and all employees have a role and responsibility for internal control in a coherent relationship to create a culture of management and good operation.
Strategies for Risk Management and Internal Control

1. Develop sound practice in risk management and internal control in accordance with the changing environment, good governance for stakeholders' benefit and support mission of the BAAC.

2. Take advantage of risk management and internal controls to create business opportunities and value added, diversify risk, promote public confidence and reduce corporate losses by extending business continuity management systems to support events that may cause disruptions to normal operations.

3. Develop systematic risk management with sufficient and accurate database to provide risk management information relevant to regulatory requirements.

4. Integrate risk management with the BAAC's strategic plan to enhance long-term competitiveness.

5. Develop corporate culture as risk management and internal control are responsibility of all employees.
6. Promote profession in risk management and internal control.
Risk Management System and Structure
1. The board member plays a key role in determining policy, risk management system and risk ceiling to provide appropriate environment to suit for BAAC's operation and business model.
2. The Risk Management Committee consists of representatives from the board members and senior executives, responsible for reviewing risk factors, strategies and risk management plans as well as monitoring risk as its acceptance level.
3. The Risk Management Department is responsible for developing the integration of risk management and internal control of all business units in order to enhancing risk awareness culture. All dimensions of significant and relevant risks will be report to the Risk Management Committee while the Audit and Compliance Department is responsible for ensuring that the BAAC's risk management and internal control systems are adequate, effective and efficient.
4. All department and business unit is responsible as risk owner to identify, monitor and report all associated risks at its own level by employing control self-assessment process.
5. Risk management policy, guidance and related manual will be annually reviewed in accordance with business environment, regulation and its strategy and will be communicate to employees at all levels throughout the organization to strengthen the understanding of risk management practices.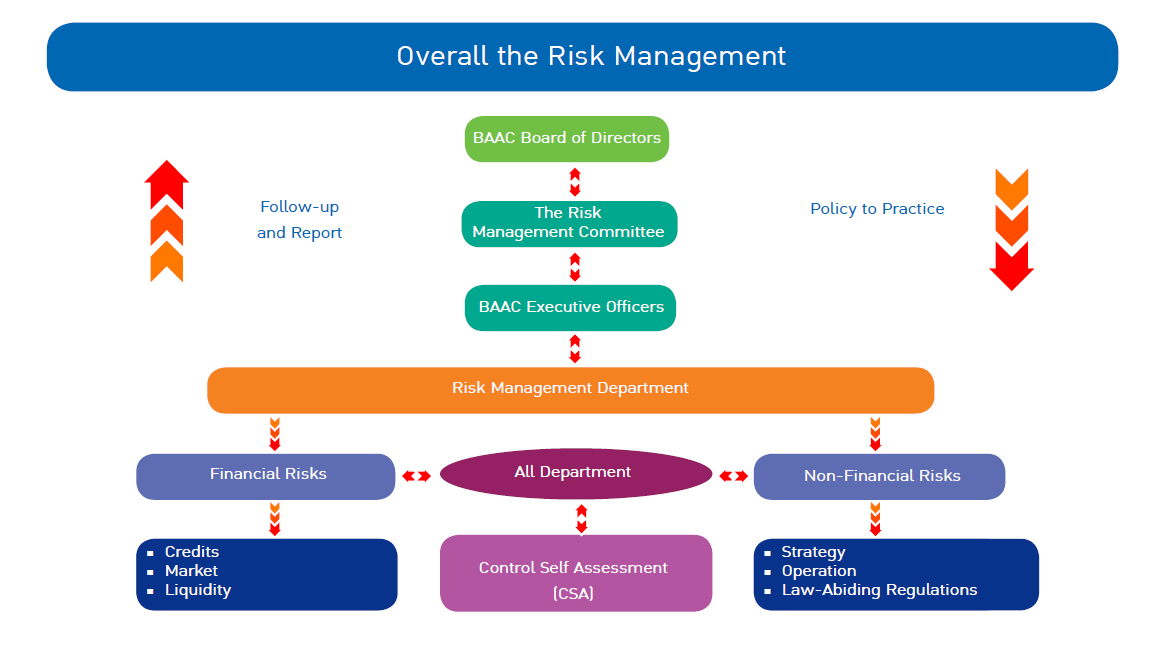 4. Risk Management and Internal Control Measures

BAAC set up three levels of risk management and internal control measures to emphasize and support the strategic drive to achieve its objectives and goals; strategic plan, functional plan and Day-to-day basis. The crucial plans that require high priority and collaboration will be put into strategic plan level, for example, plan for developing of risk assessment tool or improvement of loan quality. Functional plan such as loan portfolio management or the development of an early warning system will be put into business unit plan for intensive follow up. While day-to-day basis task related to core business and major process have to employ the required process control, for example, core banking system, operational procedure and manual for work processes.